San Mateo Daily Journal – Small Businesses Struggling to Stay Open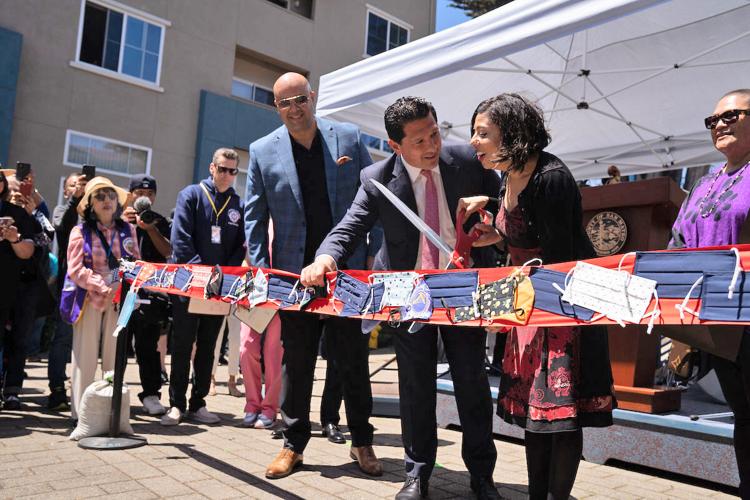 Businesses face new rules in San Mateo County
Balancing safety and comfort amid reopening and reduced restrictions
As most of California's business restrictions put in place to prevent the spread of COVID-19 were lifted on Tuesday along with loosening of mask mandates, San Mateo County business owners said their main focus will be on balancing safety and comfort.
"I want everybody to feel safe to come to the restaurant. … I don't want them to feel insecure," Abel Cano, owner of Redwood City's Cari Blue Restaurant and Catering, said.
Cano said the restaurant is barely surviving after experiencing the devastating lows of the pandemic. To keep the business alive, he relocated to Modesto, forcing him to drive back to the shop on Broadway in the early mornings.
With most restrictions lifted, Cano said he's hopeful business will improve. While he won't be requiring masks for customers, he said he's opting to maintain social distancing between tables to keep guests happy.
"We have to trust them because even if they're vaccinated they can still get it," Cano said.
At Alana's Cafe and Sixto's Cantina in Burlingame, masks will also not be required, said co-owner Teresa Lindhartsen. Taking the step to go maskless wasn't hard, given that customers eventually remove their masks to eat anyway, she said.
Like Cano, Lindhartsen said reduced capacity will remain in place at both of her locations which are operating at around 50% inside. Outdoor seating makes up for some of the loss, she said.
"If somebody feels safe, they're going to let you know. If someone doesn't feel safe we'll do our best to make them feel comfortable," Lindhartsen said. "If someone is not comfortable we have the room to make people comfortable."
Retailers recommend masking
Reduced capacity will remain in place at San Mateo's needle point store, Luv 2 Stitch, store manager Rhonda Pellegrini said. When restrictions were reduced to allow customers back for indoor shopping, the store shifted to an appointment model, allowing one customer in at a time.
Once in the yellow tier, the shop stuck with its appointments but permitted up to two people to drop in at a time. That model will remain in place along with masking requirements, Pellegrini said.
"The virus is still out there and everybody wants to stay well. It's not just about yourself," Pellegrini said. "We're all in this together. If you wear your mask, you're going to help."
Alternatively, Angela Forte, owner of Crow's Nest in Half Moon Bay, said the women's clothing shop will not require customers to mask up but will display signs strongly recommending shoppers wear face coverings.
As the region has overcome the health crisis, routine mask wearing has become more relaxed among customers, Forte said. Some will enter the store without a face covering, waiting to be told to put one on, while others may become comfortable while shopping and will ask to take theirs off.
Rules around what qualifies as a mask has also been a challenge, Forte said. She noted customers have entered wearing masks appropriate for her shop but that got them removed from other places. Recognizing neighboring shops may have different rules, she called on the public to be patient when supporting their local merchants.
"Our shop makes everyone feel comfortable and we want our customers to enjoy themselves," Forte said. "Everyone just needs to be a little more kind to the people out there working. … It's a lot. It's been hard."
Forte said she appreciates the freedoms given to businesses but as a self-proclaimed rule follower she said "it's a tough role to have."
And top of mind for Forte is employee safety. Each merchant is planning to continue practicing masking among staff, some longer than others. But additional clarity and more steady communication around rules from governing agencies would have been welcomed, some said.
All of the merchants agreed that checking for proof of vaccination was a nonstarter, likening the practice to policing. And reviews were mixed on whether the state should have waited longer to lift regulations, putting the responsibility on businesses to now make the rules.
Reopening changes
As of June 15, state guidance permits all fully vaccinated residents to go maskless in most situations unless local ordinances or businesses say otherwise. Unvaccinated residents are required to wear masks when indoors and when social distancing is can't be maintained outdoors.
Businesses may either require all customers wear masks regardless of vaccination status, follow the honor system which would allow those who claim to be vaccinated to go maskless or implement a process for verifying completed vaccinations.
Business employees could soon be subject to similar masking requirements following the approval of updated guidance by the California's Division of Occupational Safety and Health, known as Cal/OSHA. Gov. Gavin Newsom is slated to sign an emergency order on Friday, June 18, to codify the rules, avoiding a 10-day waiting period between when the board votes and rules typically go into effect.
Officials have said the county will not release any local recommendations, fully aligning with state guidance.
"We've been waiting for June 15 for a while and now it's here. We did it. No more masks and no more social distancing is the freedom we need to return to our everyday lives," David Canepa, president of the San Mateo County Board of Supervisors, said in a press release.
The county celebrated the state reopening with a mask-optional barbecue and a ceremony in which a ribbon made of masks was cut in Colma. The event featured a pop-up vaccine clinic and live entertainment by the International Cafe Music Society and local media personality Joe Vazquez.
Officials also announced the return of most San Mateo County parks activities including event reservations, two-way hiking on all trails and group and youth camping. Park visitors will be subject to state guidelines which permits going maskless for vaccinated and unvaccinated people when outdoors.
The Hillsdale Shopping Center will also not require masks for vaccinated customers, said Christine Kupczak, marketing director with the shopping center. Each store will have the authority to set its own policies, she added.
But masks will still be required at county historical sites, including the San Mateo County Museum, the Sanchez Adobe site and the Woodside Store, said Mitch Postel, president of the San Mateo County Historical Association.
Like all businesses, the association had three options for which mask policy to adopt. Echoing the merchants, Postel called vaccination checking "problematic," noting it can be easier to ensure everyone is wearing a mask than telling if someone is vaccinated when enjoying exhibits.
"It's much more of a safety thing for our public and our staff. There's still a lot of unknowns out there," Postel said before speaking at the county's reopening celebration. "Let's be safe for a little while longer."
Patience and good habits
Recognizing the difficulties businesses now face when deciding whether to require masks, trust the public or check for vaccinations, Rosanne Foust, CEO and president of the San Mateo County Economic Development Association, called on the public to be patient.
"If they want to patronize our small businesses, and we need all of our community members to do that, please be patient," Foust said. "Everyone wants to keep them safe."
Reflecting on the pandemic, Foust said she feels strongly that the public is more knowledgeable of the risks the virus carries and shared hope safety measures like hand washing and sanitizing would remain a common practice.
The agency is also working with the county to hand out free personal protective equipment to merchants at the San Mateo County Event Center, with 400 small businesses having signed up for the program despite changing safety requirements.
While businesses are now responsible for setting their own rules, Foust also noted each also has the freedom to tailor requirements to their businesses.
Similarly, Amy Buckmaster, president and CEO of the Chamber of San Mateo County, said the organization has not made any formal recommendations to businesses but backs a merchants' selection of whichever model works best for them.
"No shoes, no shirt, no mask" is the right of any business owner to require for personal and public safety," Buckmaster said in an email. "Let's all be responsible and respectful of each other during these times."
---
Original Article – San Mateo Daily Journal
–